Vegan Hazelnut Caramel Bars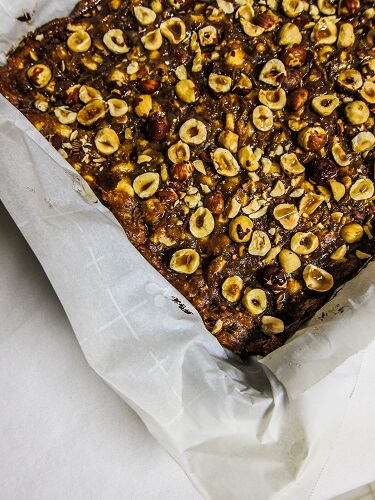 When I go to the grocery store I admit I am usually in a hurry to grab what I need then get out.  Eric makes fun of me for it, saying I need to slow down sometimes, because I am missing out on things.  Surprisingly though I hardly ever forget something.  If I do though, I can get it at my work (I work in the deli of a health food store), or at the Aldi up the street.  On my day off last week though, I was taking it a little slower at Aldi since I didn't have anything else going on, and I noticed that they had toasted hazelnuts.  I love getting pre-toasted nuts for recipes, because it saves me a lot of time in the kitchen. Especially when I go to grab the nuts for my nut butter and find out I haven't toasted them yet.  Anyways, toasted hazelnuts sounded good, so I grabbed a bag figuring I could make something delicious with them.  So taking time to look around paid off that time.
Later on that day, I decided to make some hazelnut caramel bars.  I wanted them to have the same type of filling as a pecan pie but with toasted hazelnuts instead.  It was an odd fall day, 80F degrees with a dew point of 70 so my Mom said I was crazy to be baking when I told her what I was going to do, but you know what"  Sometimes it is worth heating up the oven on a hot day for a delicious treat.

I gave the bars a shortbread like crust to begin with, I wanted it to be buttery, rich and melt in your mouth.  I used a mixture of whole wheat pastry flour and tapioca flour to make it a bit more...
URL de la Fuente:
http://www.fragrantvanilla.com/
--------------------------------
EPIC VEGAN CARBONARA in 5 MINUTES! #VEGANUARY