Vegan Chocolate Hazelnut Silk Pie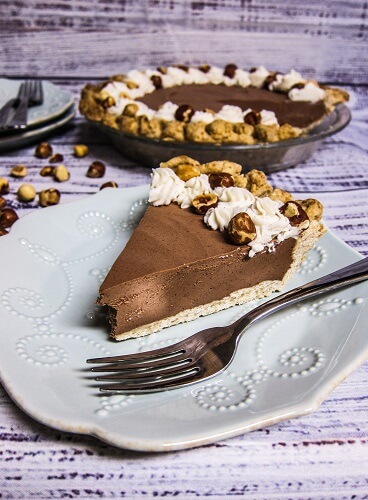 Pumpkin, pecan and apple were always staples at Thanksgiving growing up, and I made pumpkin and apple pies before Thanksgiving this year earlier in the season, but this year I decided to make a chocolate hazelnut pie specifically for Thanksgiving.  I was thinking something similar to French silk pie but with hazelnut because chocolate sounded so good to me at the time, and Raw Guru had sent me some of their Dastony Hazelnut Butter.  My family liked the idea too so I went for it!  I have a confession to make, I have decided I am not making much in the way of food for Thanksgiving this year, since we are going out to dinner the following weekend, but I am making dessert!  I get a little bit burnt out on making Thanksgiving food since I work in a deli and it is really busy this time of the year making all of the Thanksgiving dishes.  So I like a break on the actual holiday sometimes.
But back to the pie which is the important part of this post!  I wanted it similar to French silk, so a classic buttery tasting pie crust.  For that, I used my classic coconut oil pie crust.  It has just 5 ingredients, whole wheat pastry flour, coconut oil, coconut sugar, and sea salt plus cold water.  It always tastes nice and rich, and bakes up nicely.  If you wanted to make it gluten free, you could swap Bob's Red Mill gluten free all purpose baking flour for the whole wheat pastry.  I have tried it before with good results (but I have not tested other brands so I can't say the same for how t...
URL de la Fuente:
http://www.fragrantvanilla.com/
--------------------------------
Ratatouille | Vegan One Pot Wonder