Vegan Chickpea Greek Salad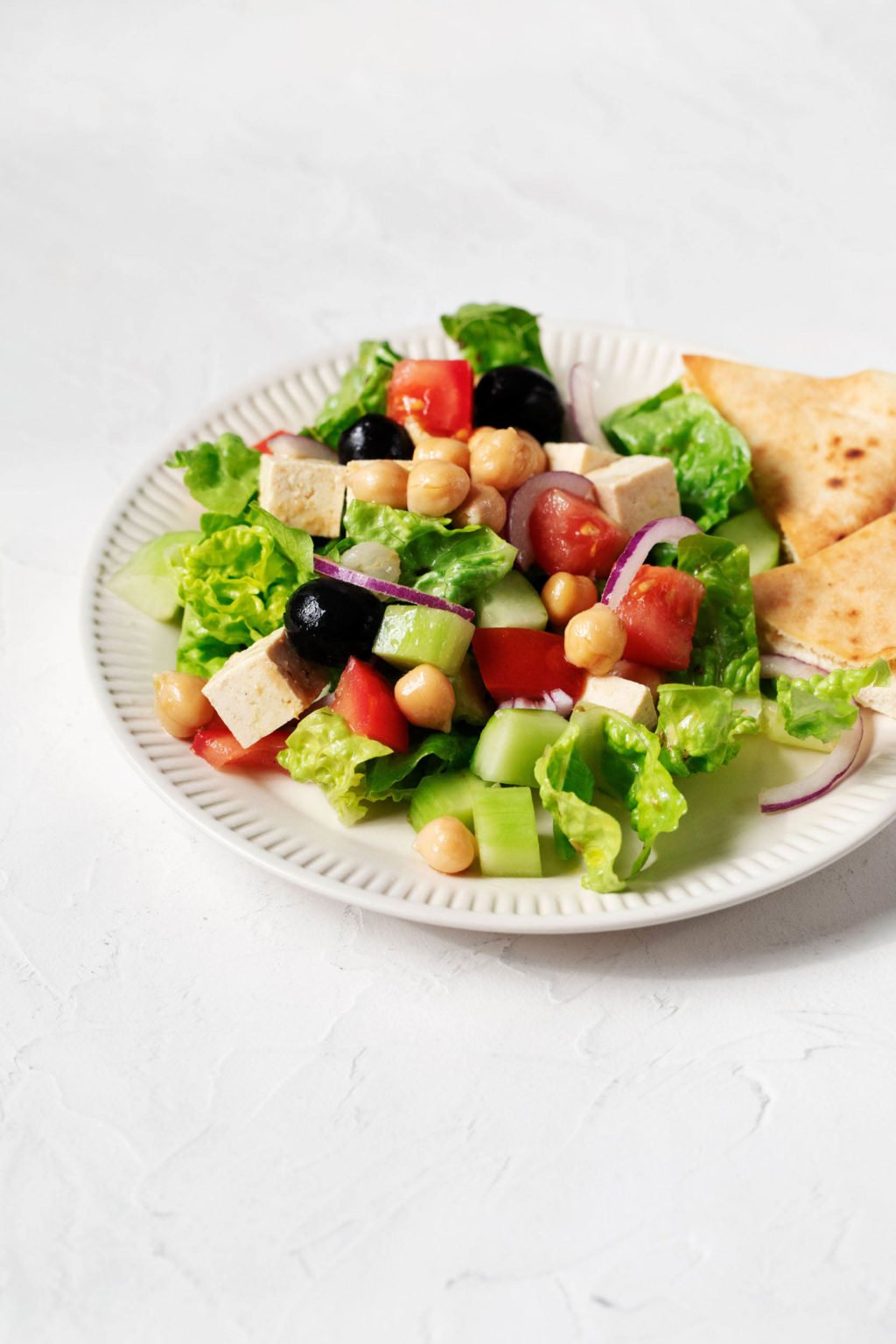 This is a plant-based spin on traditional Greek salad, made with the wholesome addition of chickpeas. It features a tart, salty vegan tofu feta, crisp romaine, tomatoes, cucumbers, and red onion.

It feels so good to welcome in the official start of summer. It's also the official start of salad season, though technically I've been enjoying salads since it started to get warm in New York.

A little while ago, I shared a simple Greek vinaigrette dressing. This dressing has been giving life not only to my salads, but also to my grain bowls and roasted vegetables.

Since I had Greek vinaigrette on hand last week, I figured it was time to make a cool, crispy, refreshing vegan Greek salad. I've made a barley version in the past, and I love it. This time I thought it might be fun to add a legume, not only because I love beans, but also because it's added plant protein (in addition to the tofu feta).
I love how this chickpea Greek salad turned out! It's refreshing yet hearty at the same time. With a few pita wedges, it's an absolutely perfect summer lunch.

What's in a Greek salad"

Greek salad is typically made with cucumbers, tomato, red onion, olives, and feta cheese. I've seen some recipes that include capers and some that include fresh oregano. Here, the oregano is dried, and it comes from the Greek vinaigrette.

I love the simplicity of a Greek salad. It's a beloved recipe for a reason! But ...
URL de la Fuente:
http://www.thefullhelping.com/
--------------------------------
Easy Tofu Patties // What I Ate in a Day (VEGAN)