Vegan Cappucchino Cheesecake Swirl Brownies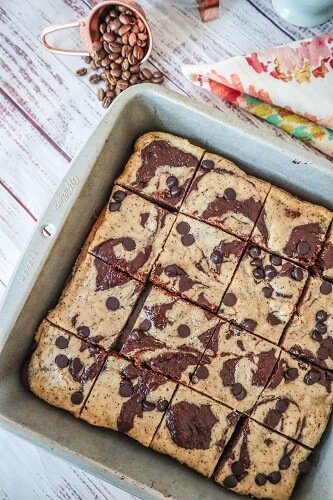 I am a coffee fan. It always smelled amazing to me even if for the first part of my life I thought it actually tasted gross.  But that may have been because the only time I would try it would be some event at church or something and I tried it plain with nothing in it.  Now as an adult I guess I am somewhat picky about the type I drink.  I like medium or light roasts, dark sometimes tastes too burnt to me.  Also, my favorite coffee beans are from local roasters here in Minnesota.  My favorite is Dogwood Coffee.  I make my coffee at home during the week or have some at work, usually with a bit of oatmilk.  But on weekends Eric and I like to go out for coffee dates and order something a little more fancy. I was enjoying some coffee last weekend and was thinking about how good it would be with brownies to enjoy it with.  So I decided to make some!
I thought why not make the brownies have a little bit of coffee flavor as well, so I made cappucchino cheesecake swirl brownies!  I know brownies are so good on their own, but I usually can't resist swirling something delicious with them or flavoring them with different things.  It is so much more fun that way! My favorite is a cheesecake type filling.  Vegan of course!  Cheesecake is also one of my favorite desserts so I love incorporating it into other things.

For these I made my classic brownie base, which is rich and fudgy just how I like my brownies!  But this time I added a bit of coffee to it as well, because why not have a...
URL de la Fuente:
http://www.fragrantvanilla.com/
--------------------------------
FRYING PAN PIZZA | EASY YEAST FREE PIZZA BASE