Vegan Apple Cream Cheese Coffeecake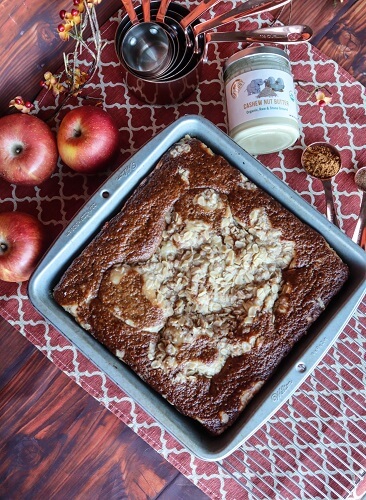 This is a sponsored post, but all opinions are my own

I have been seeing all sorts of delicious apple desserts in my newsfeed lately, and have been excited to start making my own!  I love a good apple pie, apple muffins or apple scones, but what I decided to make first was some apple "cream cheese" coffeecake!  Raw Guru recently sent me some of their Dastony raw cashew butter, which is something I love using in my cream cheese fillings so it was the perfect time to make it!

I have always loved coffeecakes, especially the ones involving cream cheese ever since I was a kid and I begged my mom to buy me some at the grocery store.  Of course home made is always better though, and she made some pretty good coffeecake too!  This is the time of year when I usually whip one up!  The base for this one is pretty easy to make, I used coconut oil for richness, the apple sauce to create a moist cake with apple flavor and of course cinnamon and nutmeg that go so lovely with apple.  The batter tasted delicious even before I baked it!
For the cream cheese, I combined the Dastony raw cashew butter with coconut cream, maple syrup and vanilla to make a rich cream cheese layer.  I could not wait to bake this cake up!  But first I made a bit of streusel to sprinkle over the top, because why not"  It smelled heavenly while it was baking!  I love the scents of fall goodies!

Once it was all cool and ready to try, I had to dive in so I cut myself a good sized piece.  It was sooo ...
URL de la Fuente:
http://www.fragrantvanilla.com/
--------------------------------
VEGAN PESTO PASTA | PERFECT SUMMER DINNER - THE HAPPY PEAR