The Titans of Healthy Eating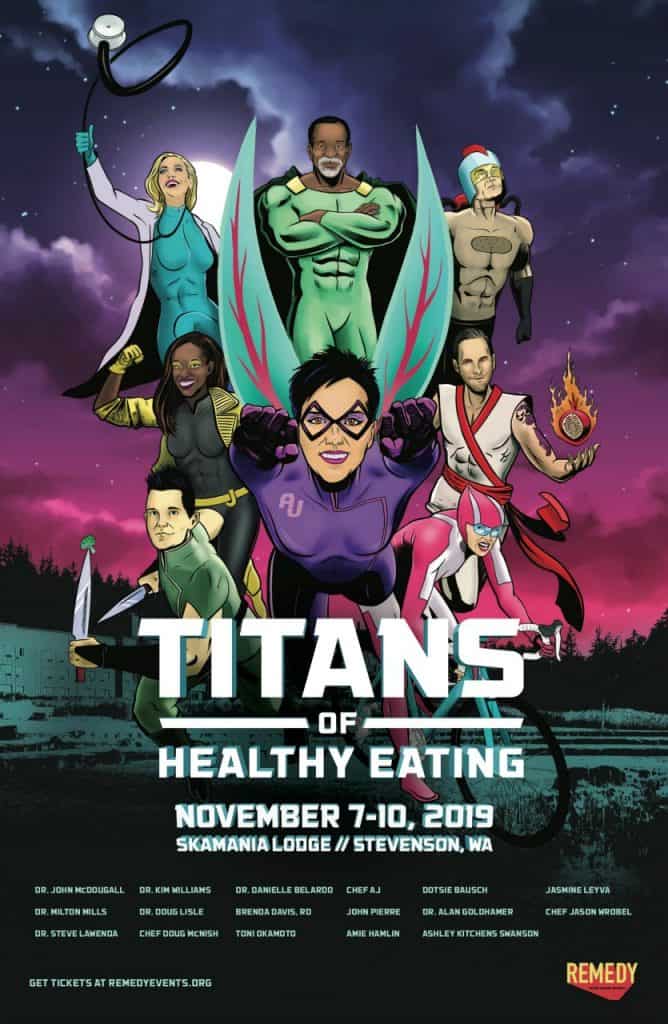 This weekend I had the unique pleasure of attending The Remedy River Gorge Retreat in Stevenson, WA to meet, listen, and talk to some of the biggest icons in the plant-based world. Celebrities we have all heard of, read about, or seen on TV. Our heroes, our icons, our gurus.

Or as I like to call them, The Titans of Healthy Eating.

I spent 3 days and 3 nights not only listening to each and every speaker but also getting to actually meet and chat with them.

Picture yourself eating breakfast with your new group of friends when Dr. Alan Goldhamer of The True North Health Center sits down to join you….

Ot eating dinner at the same table as Chef AJ and Brenda Davis, RD when all of a sudden AJ makes room for Dr. John McDougall and his wife Mary to join us…
Or having your photo taken with Dotsie Bausch from The Game Changers, or Dr. Milton Mills of What The Health.

To say it was surreal is an understatement!

So many of the icons we look up to and learn from in this plant-based lifestyle, all together in one room sharing their message.

And what message was that you may ask"

WHY EATING A PLANT_BASED DIET IS THE ABSOLUTE BEST WAY TO IMPROVE OUR HEALTH AND SAVE OUR PLANET!

Mary McDougall, Chef AJ, Brenda Davis, Dr. John McDougall

Dr. Kim Williams spoke about the benefits from a cardiologist's point of view while Dr. Milton Mills dug into the science of how it improves our gut health and microbiome.

Dr. Alan Go...
URL de la Fuente:
http://www.brandnewvegan.com/
--------------------------------
Pasta Tricolore e Fagioli | ASMR Cooking Sounds