Roasted Sweet Potatoes, Parsnips & Tomatoes with Caper Vinaigrette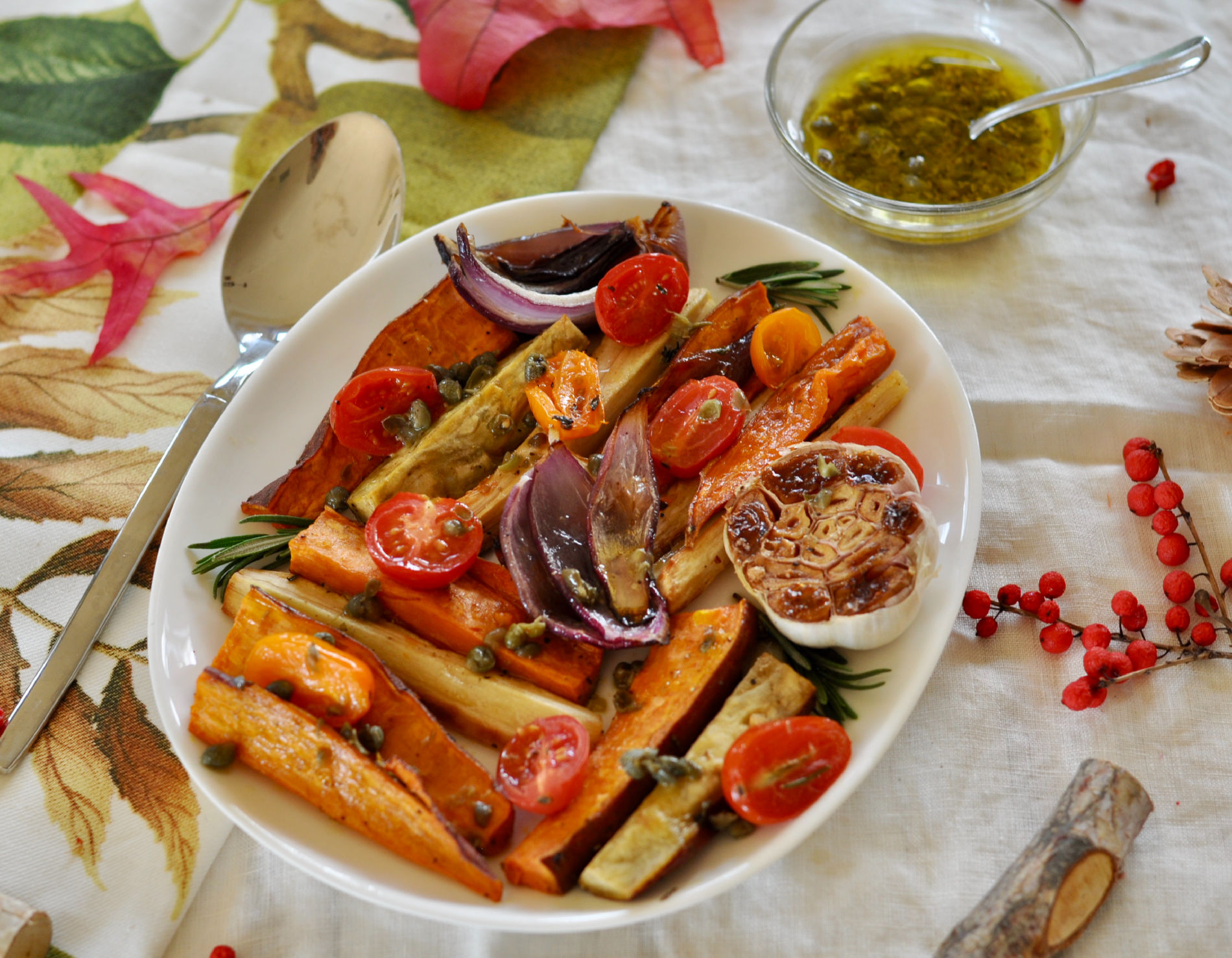 In my opinion, it doesn't get better than these roasted sweet potatoes.
If you are seeking a vegetable dish with minimal prep work and incredible flavors, this is it. Sweet, tangy, and bold tastes that will linger on your tongue long after the meal is over.
Also, you don't have to stick with my choice of vegetables. You could use any of your favorite veggies like fennel, parsnips, or carrots. But the one thing they will all have in common is the long roasting times that gives this dish a wonderful caramelized flavor.
This recipe is courtesy of Chef Yotam Ottolenghi and his cookbook "Plenty." Although the cookbook is not vegan, I often look at his flavor profiles for inspiration.
I am also obsessed with sweet potatoes. Baked, roasted, or stuffed, I try to consume at least two a week. Sweet potatoes are a staple of the Okinawan diet. The Okinawan region boasts one of the highest rates of people living beyond 100 in the world. Furthermore, don't believe everything negative you hear about carbohydrates. The Okinawan diet is carb-heavy, with the daily intake set at a ratio of 10-1 in favor of carbs over protein.
One other highlight of these roasted sweet potatoes is the caper vinaigrette. Capers add a briny, vinegary, salty taste that goes so well with the caramelized flavors.
I hope you enjoy these roasted sweet potatoes as much as we did.
If you are just getting started on a vegan diet, I provide many helpful resources like this downloadable vegan protein list and...
URL de la Fuente:
http://www.ordinaryvegan.net/
--------------------------------
WHY YOU SHOULDN'T BE HAPPY