Creamy Sweet Potato & Roasted Red Pepper Spread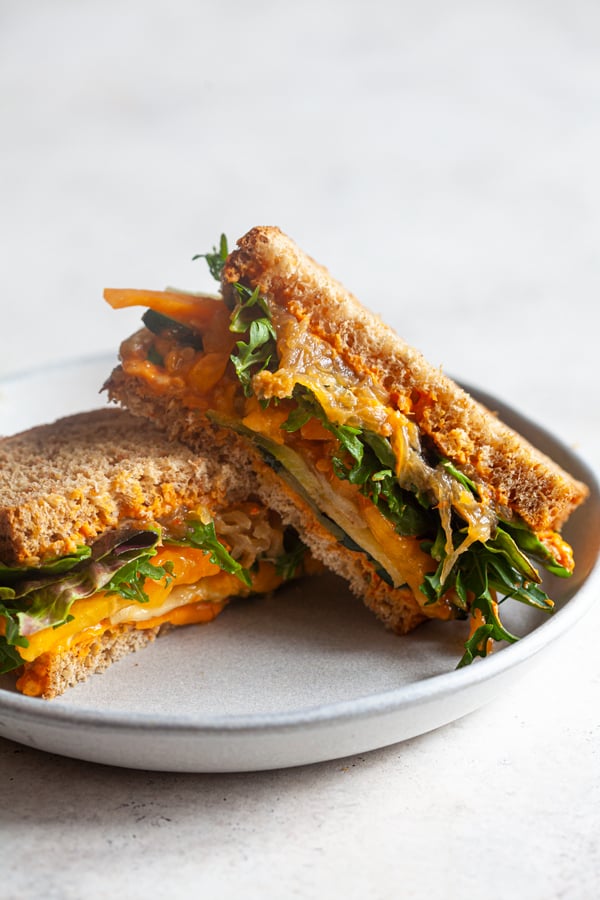 Hummus is one of those foods that I could (and usually do) eat every single day without boredom or the craving for something else. Every so often, though, I like to experiment with a different type of dip or spread, and I think this creamy sweet potato roasted red pepper spread is destined to be my go-to of the season.

It's funny that I'm just posting the spread now, because my inspiration for it dates back years. I first made a variation of this dip belonging to Myra Kornfeld nearly a decade ago, when I got her wonderful cookbook The Healthy Hedonist. In it, she describes a sweet potato and roasted red pepper dip in which tahini "provides the fat necessary for a smooth texture, but the flavor is unobtrusive." Excited to see so many of my favorite foods in the ingredient list, I made it right away. It didn't disappoint. It's been a while, but I'm happy to have tried my own version of the dip again this past weekend, and it's as silky smooth and tasty as ever. I've used slightly less tahini in my version, which I think allows the pepper, lemon and coriander to shine through. And I've made the cooking process a little easier, with a microwave option for the potatoes and by using jarred, roasted red peppers. You can of course use fresh if you prefer, or if you're roasting a batch for other purposes.
The spread is sweet, light, and bright?a less earthy alternative to hummus or bean dips, and a wonderful way to ...
URL de la Fuente:
http://www.thefullhelping.com/
--------------------------------
LASAGNA ALFREDO MUKBANG (VEGAN) // Munching Mondays Ep.16